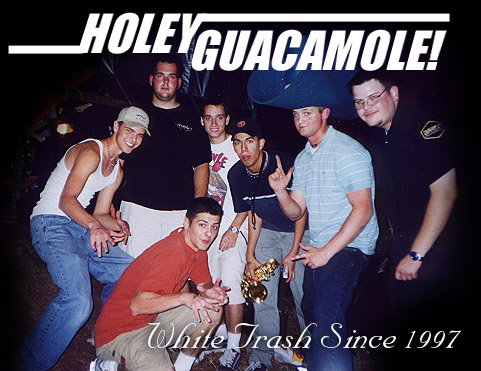 Welcome to the OFFICIAL Holey Guacamole! Hompage
Holey Guacamole! is a 7 member ska/rock/punk band from the southwest side of Houston, TX
FOR BOOKING OR OTHER INFO EMAIL US HERE
CONTACT THE WEBMASTER HERE
GET ON THE MAILING LIST HERE
November 6, 2001 - Mike here. Well, okay, we havent' done anything in a while. Most of the band is in Austin, while a few of us are still in Houston. But I bet if all you loyal fans bug us enough, we will put something amAZing together for y'all.

RECENT NEWS:

UPCOMING SHOWS AND EVENTS
CLICK THIS!CUZ I SAY SOOO!
STATS BY NedStat
Everything contained in this website is property of Holey Guacamole!
If you wanna use it, just ask.
Copyright 1999, 2000
Page designed by Jeremy
Site maintained by Jeremy and Mike